Strategic Vendor Scouting portal
Accelerate supplier scouting and build productive relationships
Supplier Search becomes Smart
Our intelligent search engine can process data from internal requirements and shows the best suppliers identified in the large pool of pre-qualified companies available in our Supplier Portal within Online Procurement.
The network of pre-qualified suppliers in all the main product areas
A Growing Portal
A Supplier network with constantly increasing numbers
Free
Access to the portal is included for Buyers using Online Procurement and Suppliers can access qualification for free.
Integrated
Search new Suppliers directly on your Supplier Management Platform
Suppliers Support
Free your IT department: we offer full support to supplier both in the registration and in the qualification process
Secure
All data available in the platform are protected by severe security and data protection protocols
Strategic
Minimize the time necessary to manage Vendor Scouting activities and find the best suppliers in one click.

Suppliers with successful references – more than 80% of Suppliers enrolled in our Portal are companies already collaborating with other Buyers using Online Procurement or with Public Administration. This is an extra reliability guarantee as well as the assurance of their ability to meet requirements in terms of transparency both in processes management and sustainability.
Boost competition and generate value – select the best suppliers and allow the setting of a competitive environment for supplies with a better quality/cost ratio.

All information in a single platform – Select easily new suppliers of different areas thanks to visibility on data and documents in a single interface.
Reduce timing and costs – speed up search processes and qualify new suppliers, getting in touch with suppliers proving the best specific skills for your industry and areas of interest.

Information updated in real-time – access constantly updated data thanks to the intelligent monitoring system that spreads alerts and warnings to suppliers when the deadlines for certifications and documents are approaching.
Quality Data Analysis – exploit data consistency and compliance for a better comparison and processing of supplier profiles by sector of competence.
Supplier Portal – Active Scouting of new suppliers
Find out how expanding borders of your market can optimize your purchasing processes.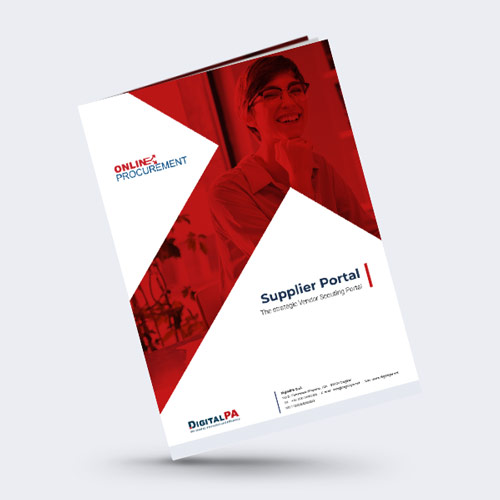 Behind a great product there is always a great supplier
Are you a Supplier? Register now for free to our Supplier Portal and start increasing your business chances.