We create procurement efficiency

Discover Online Procurement, the solution for digitizing the procure-to-pay cycle
A solution that grows with you
Start digitizing your core processes and add new capabilities as you need them.
Built around your needs
Every procurement function is different: we listen to your needs and translate them into the right tool for you.
Smart integration
Connecting Online Procurement to the ERP and billing and accounting systems you already use won't burden your IT department.
The best in SaaS technology
We continually update our SaaS platform to maintain the highest levels of performance and security.
World-class training and technical support
For more than 20 years, we have been advising organizations on how to digitally transform their procurement processes. You are not a number to us: both training and support are always included in the start-up costs.
Take control

of 100%
of corporate spend with Online Procurement
An effective control program starts with optimizing supplier management
We analyze your business needs and guide you on the path to
digitizing supplier management
With an intuitive supplier management system, you can automate the processes of collecting, qualifying, and verifying information for each commodity category, monitoring performance, and tracking orders and communications.
You'll have access to a fully customized management and control panel.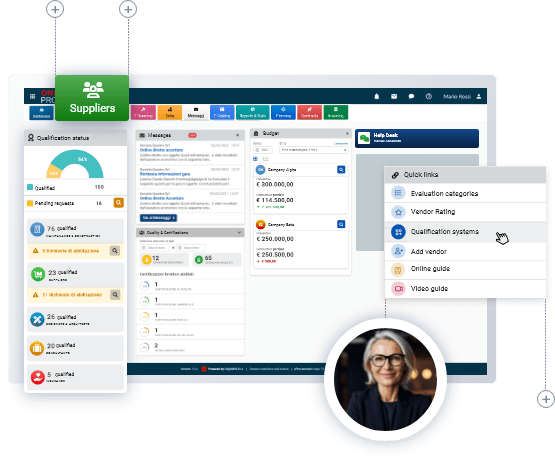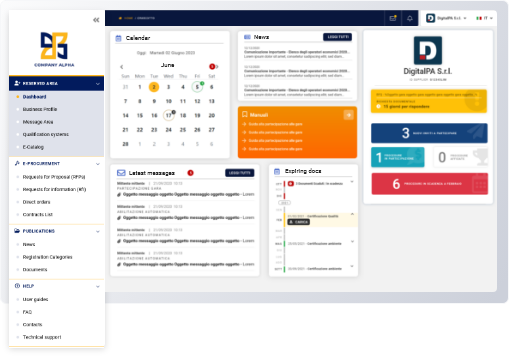 Empower your suppliers and eliminate the most repetitive manual tasks with the
Self-Service Supplier Portal
Suppliers manage the update of master data, documents, and certifications themselves with the help of the integrated scheduler.
Online Procurement is the
all-in-one

solution for:
Selecting the
right supplier
• Advanced systems for finding and selecting the ideal supplier
• Purchase order history
Guided
purchase order management
• Wizards for POs and direct-to-cart orders, e-commerce style
• Order visibility and tracking
One-click access to
orders, documents and statistics
• Single digital archive for searches in seconds
• Access to data through permissions that follow the organizational chart
• Quickly compare invoice to purchase order
• Ad hoc approval flows to authorize payments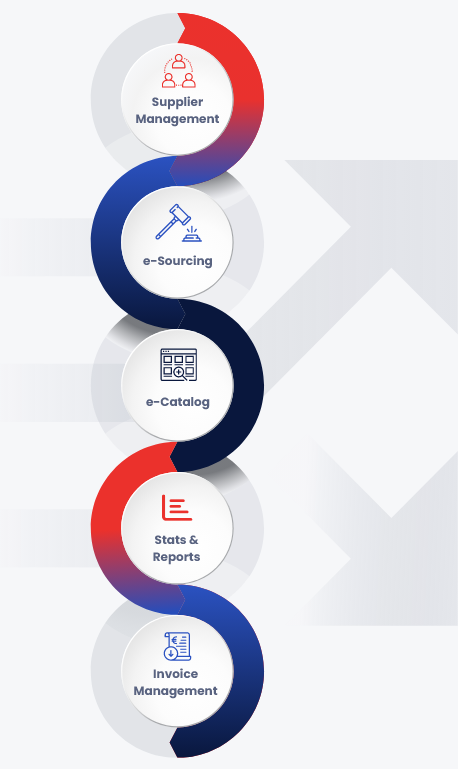 The impact of Online Procurement on your business
Talk to one of our consultants and find out how Online Procurement can help your organization with a free DEMO

Gain access to an actual procurement cockpit – with complete visibility and control over all spending, you'll see a significant reduction in errors and non-compliant expenses, resulting in tangible savings.
By cutting in half the low-value-added manual tasks that eat up your department's time, you can increase productivity and focus on what matters most.
Happier employees, stakeholders and suppliers
Online Procurement centralizes all activities related to the passive procure-to-pay cycle. With a more efficient and transparent organization where everything is tracked, the collaboration between users inside and outside the company can only improve.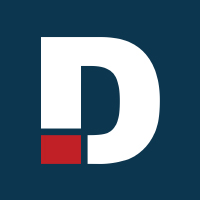 About DigitalPA
DigitalPA is a software company that has been developing highly innovative technology solutions for companies and public administrations in the areas of e-procurement, ethical compliance (whistleblowing) and risk management for more than 20 years.