Online Procurement Enterprise is the key to the digital revolution of your Source-to-Pay processes
Increase ROI with automated end-to-end procurement management
Drive business innovation with Online Procurement Enterprise, the advanced digital suite that gives you full control over all your procurement processes. Thanks to the integration with any ERP and the modular architecture, you can benefit from a flexible and tailored solution to optimize spend management and the choice of the best suppliers for your company, from any device or location.
And that's not all: at the core of Online Procurement Enterprise are the rigorous data protection and international certifications for security and business continuity obtained by DigitalPA, to aim for excellence in operations.
The benefits of enterprise-level procurement management
A solution that can be customized for every business need
Online Procurement Enterprise is a suite consisting of several modules focused on the individual steps of the purchasing cycle, to be used individually or in synergy for maximum effectiveness. The software will also be customized on the basis of business needs, including the graphic appearance of your brand.
Complete expenditure governance and saving optimization
The overview of the spend management guaranteed by the platform allows you to centralize all the purchasing needs of the company and to optimize both the overall budget and the individual spending categories, so as to free up more resources for your business objectives.
The supplier network as a strategic business asset
Thanks to an advanced supplier management system – that includes onboarding, evaluation and monitoring processes – you can identify the best performing suppliers and build stronger relationships with them, with a qualification process based entirely on the criteria and priorities of your business.
No resources required in the IT department
Our procurement software is delivered in SaaS and therefore does not require any installation. We'll make sure the platform integrates seamlessly into your ecosystem of applications, such as ERP or billing systems.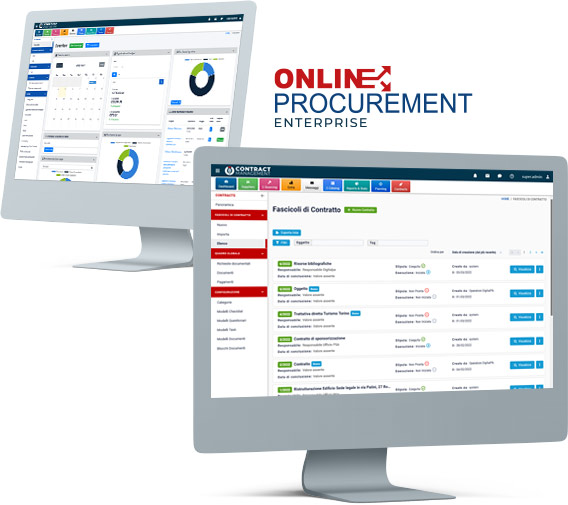 A task force dedicated to your company
DigitalPA has a certified quality management system

For our most demanding clients, we provide a dedicated team that will provide expert advice and work alongside your company to create a customized implementation and training plan.
A complete eProcurement software, to increase business performance
Spend analysis and management
Analyze your business needs, plan your purchasing strategies and manage all sourcing events in a single platform.
Supplier Management
Find the best suppliers using flexible and customizable onboarding procedures, evaluate their performance with tailored KPIs, and increase the quality and durability of partnerships.
B2B marketplace for recurring orders
As in an e-commerce, compare products, put the ones you want in your cart with one click and plan your purchases by saving the order.
Contract Management
Create automated contracts based on negotiations, evaluate execution, and maintain compliance at every stage – to minimize any contractual risk.
Passive Invoicing
Automate accounts payable management and ensure that every purchase invoice meets your business requirements.
ERP Adapter
Online Procurement integrates seamlessly with your company's ERP, such as SAP, so that data is transferred instantly and automatically between all platforms.

The reliability of DigitalPA at your service
Behind Online Procurement Enterprise there is all the reliability and competence of DigitalPA, a company with over twenty years of experience in creating e-Procurement solutions of excellence for private and public administrations.
The company can count on more than 1000 customers in Italy and abroad, and is present in 5 offices located in Italy and Spain.
Secure software that includes an international patent
Our e-Procurement system rests on solid security foundations: maximum compliance with the GDPR for the protection of personal data, 99.9% uptime, 24/7 monitoring every day of the year, advanced Disaster Recovery mechanisms, ISO certifications on quality, security and business continuity, as well as an international patent for the Inviolability of the telematic offer, with which to protect the secrecy of the most sensitive tenders.

Centralize all purchasing processes with intelligent, customized software without compromise